Easiest way to run Amiga Games
So this time next year we will have a product on the market that will likely be the easiest way to run Amiga games (the A500 mini), but before it arrives I thought Id show off some of the easiest ways to run Amiga Games Today!
Internet Archive
https://archive.org/details/softwarelibrary_amiga_games
A huge collection of Amiga software is available on this site and as long as you have a high end modern web bowser you can run the games in the browser. There can be some issue with controls, but considering, there no install, no setup and it free, this has to be the easiest way to play Amiga games.
Ant Stream
Stream running classic retro titles, loads of arcade classic are on this service, but the good thing is the Amiga library it has is pretty wide too. (NOT on iOS like I said in the video), but a simple install (windows, macos, android, amazon store, linux) and setting up an account. It also has extra features like tournaments, and leaders boards so you can compete with people online. It currently free, it was subscription service, so Id jump on now while its free.
Amiga Forever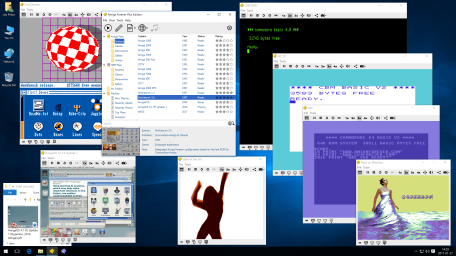 Most likely the most well know way to run Amiga games, its the official emulator by Cloanto/Amiga, this come with a small collection of games setup to run with one click, often overlooked nice treat that you get with the package, it also features the Retro Platform that will try its best to automatically get the setting for Amiga games you download, it can recogise ADF and popular amiga compress files LHA. It comes with all the Amiga computers also pre setup and has a nice full AmigaOS setup. However this is only for Windows machine, plus its kinda maybe not the easiest way to get games running if you just find one off the internet, I mean it will try it best but dosent always get the right settings and you might have to learn a bit of how to setup Amiga emulator. Plus it starts at $9.99 and if you want the extras like the games you need the plus package at $29.99.
MegaAGS (Mega Arcade Game Selector) image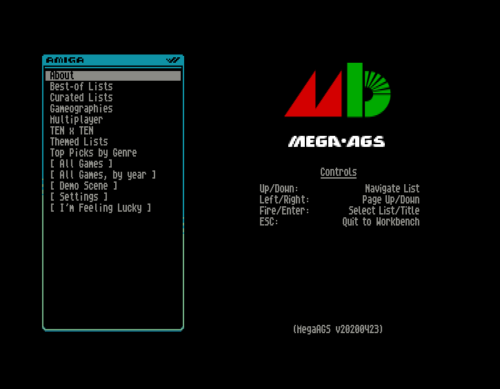 So basically in the Amiga world there has been a number of innovation to make it easier to run the old classic Amiga titles, as many of them where floppy disk based, and floppy disks are slow, annoying to change and can easily be damage, so the first big innovation was WHDLoad, this project goal was to create Slave Files that could make games run within the AmigaOS, be hard drive friendly, they also sometime fixed little issues with games and by pass a lot of the older Copyright protection stuff Amiga games came with. Then came about iGame / Arcade Game Selector programs to make it even easier to navigate and find your games, specially if you have hundreds on your system. So this then lead to a hard drive image of 6.6Gb be created with pretty much every Amiga game you can think of. So once you have this set up in either you real Amiga, FPGA Amiga, or Emulated system you no longer have to worry about setting up different things for different games. Unfortunately due to this pack having a lot of games not legally allowed to be distributed I cant tell you where to find it, but I recommend it as it is another very easy way to run Amiga games. You might need a little bit of knowledge to set the first setting in Amiga emulator but once your done its a great set up.
For more Pre-Setup Amiga that can help you start your Amiga journey, click here