Introduction
From wikipeidea "AmigaOS is a family of proprietary native operating systems of the Amiga and AmigaOne personal computers. It was developed first by Commodore International and introduced with the launch of the first Amiga, the Amiga 1000, in 1985. Early versions of AmigaOS required the Motorola 68000 series of 16-bit and 32-bit microprocessors. Later versions were developed by Haage & Partner (AmigaOS 3.5 and 3.9) and then Hyperion Entertainment (who are also the develops 4.x) decied to make updates to AmigaOS 3.1 that became known as AmigaOS 3.1.4, which was released 30th September 2018.
After the success of AmigaOS3.1.4 work began on AmigaOS 3.2, with even more features planned, this was released May 15th 2021.
AmigaOS is a single-user operating system based on a preemptive multitasking kernel, called Exec.
It includes an abstraction of the Amiga's hardware, a disk operating system called AmigaDOS, a windowing system API called Intuition and a desktop file manager called Workbench.
The Amiga intellectual property is fragmented between Amiga Inc., Cloanto, and Hyperion Entertainment. The copyrights for works created up to 1993 are owned by Cloanto.[1][2] In 2001, Amiga Inc. contracted AmigaOS 4 development to Hyperion Entertainment and, in 2009 they granted Hyperion an exclusive, perpetual, worldwide license to AmigaOS 3.1 in order to develop and market AmigaOS 4 and is currently in dispute as to weather this included making AmigaOS 3.1.4 or subsequent versions."
AmigaOS 3.2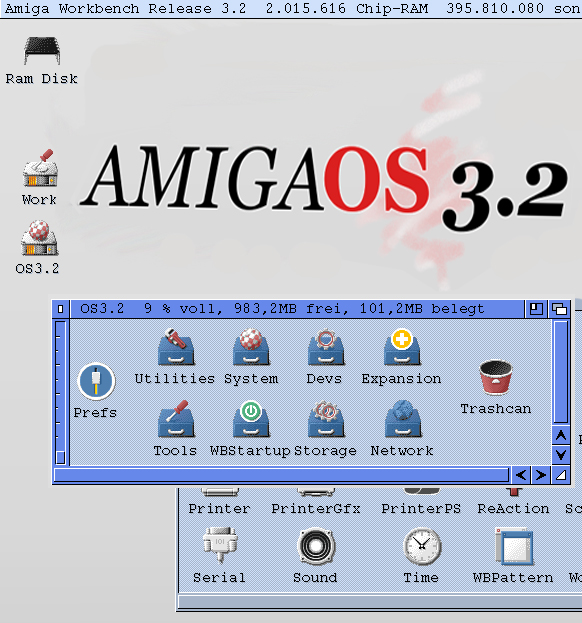 Released: 15th May 2021
After the release and success of AmigaOS 3.1.4 Hyperion decided to commission AmigaOS 3.2, with over 100 new or updated features made to the OS, hightlighted features:-
Reaction GUI
Built in ADF management
Help System
Expanded Boom Menu
Updated Data Type (Aiff, Gif, Wav, Jpeg, Png, Bmp, Acbm, Cdxl, Anim, and more)
GadTools now are font sensitive which is used by the new preferences editor and other system tools.
Regarding the print setting now the name of the output device can be specified instead of choosing the parallel or serial interface.
The name of the title line can be changed.
Windows can be iconified.
The Shell remebers commands which have been already entered. You can also search through these commands.
The Shell offers an input assistance.
There is a new, minimal AUX-Handler which enables tab expansion to also work over the serial line.
Unlimited Undos and Redos history
Improved Scroll Wheel Support
New Modern Text Edit
Improved Support for Vampire Boards
And More
Shipped on CD with ADF images and Kickstart Roms included on the CD. A downloadable version is also available. Certain retails will be making Pre-burnt Roms available and even Floppy disk or Pre-Formated CF cards from selected retailers. You can find out more on hyperion offical release post here
On December 21st 2021 AmigaOS 3.2.1 was released, the first free patch for the OS, it contained a number of small bugs fixs and features, list and discuss here
Youtube Video of AmigaBill highlighting 13 new features of OS, https://www.youtube.com/watch?v=0732yqmAXYw
https://www.epsilonsworld.com/2021/07/amigaos-32-on-amiga-1200.html - Epsilon great write up and pictures of AmigaOS 3.2 using on an A1200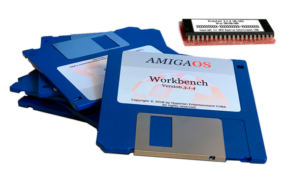 Released: 30th September 2018
The new, cleaned-up, polished Amiga operating system for your 68K machine fixes all the small annoyances that have piled up over the years. Originally intended as a bug-fix release, it also modernizes many system components previously upgraded in OS 3.9.
Contrary to its modest revision number, AmigaOS 3.1.4 is arguably as large an upgrade as OS 3.9 was, and surpasses it in stability and robustness. Over 320K of release notes cover almost every aspect of your favourite classic AmigaOS -- from bootmenu to datatypes.
Some highlights:
Over 20 Kickstart ROM modules and many more disk-based core OS components were fixed, updated, or added.
Native support for all Motorola 68000-68060 CPUs, and a more robust Auto-Configuration process.
Support for large hard disks, including boot, for any OS 2.x/3.x-compliant controller driver supporting HD_SCSI_CMD, TD_64 and/or NSD. Dedicated boot partitions are a thing of the past, even on legacy devices. You can also use variably-sized "super floppies".
A modernized Workbench as powerful as the OS 3.9 version, including new or refreshed Preference editors in the legacy OS 3.1-"GadTools" style. Its tools such as DiskCopy and Format fully support large media. Printer, hard disk and many other support tools have been fixed and upgraded.
Remember "Diskdoctor"? It earned its PhD and is now ready to reliably rescue data from your floppies or hard disks.
The CLI/Shell and many of its commands have been reworked and modernized, now sporting native support for pipes, softlinks, hardlinks and long filenames. New commands support running Workbench programs from the Shell or upgrading ROM modules.
CrossDOS and the CD-ROM filesystem are now smarter, faster, and multi-threaded, adding Rockridge and Joliet extensions as well as UDF.
Fully reworked, modernized and bug-fixed printer drivers include support for PCL and PostScript, along with legacy NEC and Epson printers.
An optional upgradeable intuition.library provides off-screen dragging of windows for native and P96 RTG screens.
A colorful, professionally designed icon set is included, along with the traditional four-color icons.
Price £35
https://www.hyperion-entertainment.com/index.php/where-to-buy/direct-downloads/188-amigaos-314