Introduction
Like most famous systems, when people move on to other platform or don't have access to the original hardware, but they still want to get there Amiga fix, or might like to have access to Amiga vast library on another platform. Emulation has been a successful way to achieve this and thanks to years of development Amiga community is lucky enough to have a really well built emulation in form of UAE (universal amiga emulation), this basic layer has formed to be the frame work for many different type of emulations, this page will look at the most popular ones.
Amiga Forever
Developed by Cloanto, its the only officially sold Amiga emulation that also includes all the Amiga original Roms / Kickstart chipsets that are necessary to emulate most Amiga systems. Largely targets the PC market but does also have Mac emulator and Kickstart rom set available for purchase on the Google Play store for Android market. The PC package is largely based on WinUAE, buts adds a number of extra features, one being the Retro Platform, which is designed to help identify the Amiga systems/setting you require for the program your trying to run. Plus version comes with a range of pre-setup Amiga systems and programs. available in both download or CD/DVD form.
Full Version Cost: £29.95 / Aimed: PC Emulators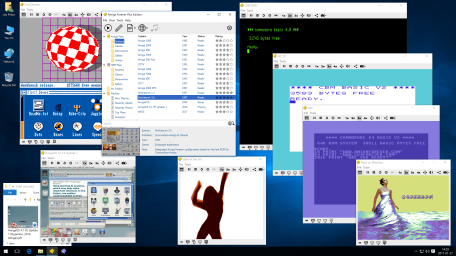 WinUAE
Most likely the best emulator developed for any computer, the amount of work gone in to not only support and emulate the systems but third party addons is nuts. By the name you should be able to tell its been designed for Windows systems. You can emulate the first Amiga A1000, with just 7mhz and original chip set graphics all the way up to PPC, Graphics Card Equipped Amiga. The emulator comes with Amos Kickstart that can run some Amiga Games and Apps but it recommended to the get the above Amiga Forever package to have a complete Amiga experience.
Cost: Free / Aimed: PC
Online / Browser Scripted Amiga Emulation (SAE)
Thanks to ever advancing web tech with Html 5 and Javascript it now possible to emulate complete gaming system, this of course now includes the Amiga. It still early days of this setup and you need to have quite a powerful computer to run this type of emulation but its bound to only get better. The Internet Archive web site did add nearly the whole Amiga library of Amiga games, 10,000 titles on there site, however many have since been removed due to licenses and the number has gone down to 4,000 with many of them just being demo versions of popular Amiga games.
http://scriptedamigaemulator.net/
https://www.file-hunter.com/AMIGA/