Introduction
A field-programmable gate array (FPGA) is an integrated circuit designed to be configured by a customer or a designer after manufacturing – hence the term "field-programmable" (from Wiki). In the Amiga world FPGA have been used to make new accelerator card to completely replicate the original Amiga chipsets. This page will only focus on the complete replicate system that have been made in the Amiga world.
Vampire V4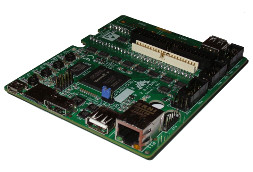 Apollo 68080 CPU
Performance is application dependent: up to ~ 1000 MHz 68030 / 500 MHz 68040 / 250 MHz 68060 speed
512 MB DDR3 memory
Dual Flash chips
FastKick
Super-AGA GFX Core: Truecolor DIGITAL VIDEO OUT
FastIDE/CompactFlash controller 13 MB/s
SDcard for data exchange
USB
RJ45 100BaseTX Ethernet
Expansion ports (e.g. Wifi Module)
There been a real buzz in the Amiga community over the latest FPGA Amiga, Vampire V4 is not just another reinterpretation of Amiga hardware but more like maybe what the next classic Amiga might have been. Designed to be both an accelerator for A1200 or a independent device. The unit features a 68080 CPU that can power the classic Amiga much faster than any old accelerator could. The graphics have also been improved with Super-AGA, which allows the system to dispaly full AGA graphics support but also adds extra features like 4mb Chip Ram support, faster Blitter support and HDMI support. In late 2019 the system became available for £549.99. It is hoped that both Aros and uncoming AmigaOS3.2 will improve support for the new computer.
https://www.apollo-accelerators.com/ - Official site
Mist
Altera Cyclone EP3C25 FPGA
32 Megabytes 16 bit wide SDR SDRAM
AT91SAM7S56 ARM IO controller
MAX3421E USB host controller
TUSB2046 USB HUB
1 x Analog VGA output with 3*6 bits colour depth
1 x Stereo analog audio jack 3,5mm
1 x SD Card Slot
4 x USB (for keyboards, mouses, joysticks...)
2 x Classic joystick connectors (Atari\'s specification DB9: Amiga, Atari, Amstrad, C64, etc)
3 x LEDs (Power, FPGA and IO Controller)
3 x Pushbuttons (Board Reset, Menu, Core defined)
1 x Micro USB connector for power supply and IO Controller flash update
1 x Power Switch
Mini Mig
Xilinx Spartan-3 400k gate (XC3S400-4PQ208C) FPGA using 82% capacity.
Freescale MC68SEC000, 3.3V, at

7.09379 MHz.

However, there's no

'E' clock,

MOVE sr,<EA> is privileged and there is no real replacement instruction. This does not seem to affect any programs yet.
2 MB 70 ns asynchronous SRAM organised as

2x 524 288 x 16-bit

banks.
MCU PIC 18LF252-I/SP[3] (An alternative is Atmel AVR) implements a FAT16 disk layout and handles loading of FPGA configuration and Kickstart. Simulates a floppy to the Amiga by encoding on the fly from ADF files.
MMC Flash memory card to load FPGA configuration, kickstart and software for the implemented computer.
3× LEDs to display the disk activity, main power and Amiga power up status (no existing audio filter!) Amiga power up status led will change intensity to show audio filter status.
Video D/A consists of 4 resistors for each color red, green, blue (4 bits/color) and output via VGA connector.[4]
Audio from an 8 bit dithering sigma-delta converter with 2nd order analogue filter.
+5V DC main power (~200 mA).