Amikit / ClassicWB / BetterWB / AmigaSYS
Introduction
One of the really cool feature of AmigaOS was its customizability to how the OS could look and even function, this was expanded on by the community and third party apps such a Magic User Interface that really allowed you to make the OS your own. Partly due to the lack of official OS updates between AmigaOS3.1 to OS3.5, a lot of community self made efforts appeared that massively updated and added functions to the OS, many of these third party tools did become part of the OS but some did'nt due to copyright and different holders. Even after AmigaOS3.9 community countiuned to add fuctions to the OS, so due to the wide ways you could setup AmigaOS and to help new starter intrested in Amiga, Pre-Configs setup have become popular in the community. This page will look at the main pre-config OS setup available to download for real and emulated Amigas.

Amikit
AmiKit is a compilation of 420 pre-installed and pre-configured Amiga programs (Amiga software built for Motorola 68k CPU) running on Windows, macOS, Linux computers thanks to integrated emulator (WinUAE). It has features such as Rabbit Hole that allow the OS to run Windows or Linux app on top of the emulator. It really demonstrates a modern retro Amiga desktop showing how far ahead of its time the Amiga software design really was, AmiKit is what you want, with out the end user having to set it all yourself. Its not really designed for Real Classic Amiga systems, but for people who own PC and Macs, easy of use and support is very good and most likely the easiest setup to get running on these systems. (requires AmigaOS Roms)
Last Update: February 11 2020
Cost: 29.95Euros (Amikit v8/9 Free) / Aimed: PC Emulators
https://en.wikipedia.org/wiki/AmiKit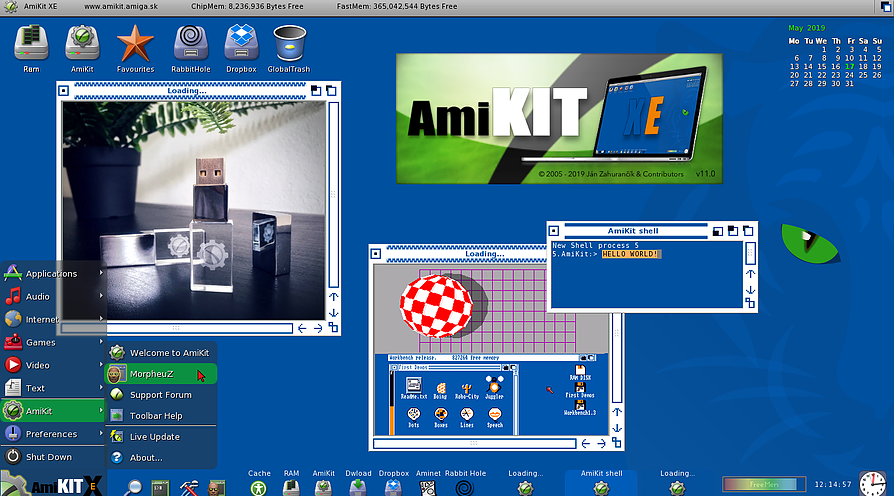 ClassicWB
Designed more for real Amiga unlike Amikit, this has many setup and solution for different spec systems, Lite (a smaller front print snappier version of the setup). Full (the full setup version) ADV (test system, recommend for experience Amiga users) P96 (graphic card equipped Amigas) UAE (emulator focus version) Os3x (update for people who own OS3.5 or OS3.9) 68k (Designed for Low Memory, low Spec Amigas). Again many pre-installed and pre-configured Amiga programs are part of the setup. There are a lot of detail instruction on how to get this system running on real Amiga and seem to be one of the favourite for the community.
Last update: 2015
Cost: Free / Aimed: Classic Amiga's and Emulators
http://eab.abime.net/forumdisplay.php?f=61
BetterWB
BetterWB main aims is to be more like a enhancement, or updated extension to AmigaOS 3.1, without all those hardware requirement penalties typically associated with the other packs. Again largely focus on working on real Amiga hardware, there limit GUI changes and eye Candy involved in this setup to keep speed of the OS up.
Last Update: Feb 2018
Cost: Free / Aimed: Low Spec Classic Amiga

AmigaSYS
Another popular Pre-config designed at the high end Amiga systems or emulation. AmigaSYS has had 4 major releases and a special 35th Anniversary version is planned to be launched this year, its also befitted by also been part of Amiga Forever package, allowing for an easy one click install and setup for people who own that package.
Last update: 2007 (but one is planned this year)
Cost: Free / Part of Amiga Forever 7+ / Aimed: Emulators
Mega AGS / Arcade Game Selector
Unlike the other efforts on here that are largely about adding more features to AmigaOS, this effort is Gaming Focus and designed to take you into a nice easy navigable menu that give you direct access to Amiga games. Arcade Game Selector allows you to navigate a library of game like iGame, but in a full screen app and can work with just a simple Joypad, it been used a lot to make CD32 compilation CDs. MegaAGS is designed to be the ultimate amiga game collection hard drive, mainly targeted for FPGA Boards like the Minimig but can work on classic Amiga and emulation systems.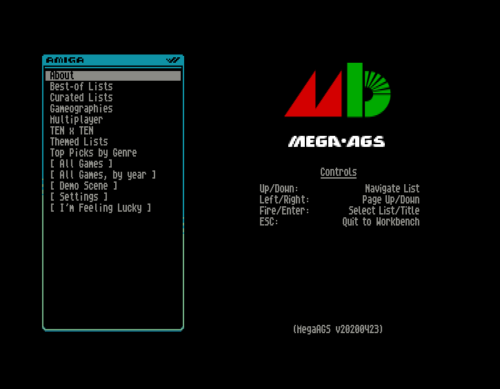 Other Setup
There are many other pre-configure OS for Amiga systems, some have not had any development in a while, some have or being designed for one purpose, like CoffinOS designed for Vampire equipped Amigas (this has since cease development and appears that Apollo team is shifting support to Aros because of legal issues), if you know of any others or want it covered on this page then let me know. below is links to some I'm aware of.
Amiga in a Box, ( http://aiab.ultimateamiga.co.uk/ )
ScalOS ( https://en.wikipedia.org/wiki/Scalos )
CoffinOS ( https://apolloos.weebly.com/ )
Futher Reading
For finding games:
General:
Understanding Amiga display characteristics/modes: