Introduction
Rather than building custom silicon or using expensive hardware Emulation has been a growing popular way of easily achieving computer/console software/games running on hardware it was not originally intended for. Most of the popular mini system of famous past console (like the min Nes, Min Mega Drive) have been achieved on small ARM based computers, now that the power and cost of these chips have fallen dramatically largely due to mobile phone sector.
Using mobile hardware has allowed boards such as the raspberry Pi to be developed for sub £30 and is more than capable of running computer software from the 80s, this includes the Amiga. Amiga has not been a stranger to the emulation scene and it seem only a matter of time a main stream mini Amiga hits the market, the befits of an Amiga emulated however is that it can be both act like a home console and home computer and I do feel this is being a currently missed opportunity for Amiga in the retro market. I discuss this and what this could be on the Prototype : AmigaMini
This page will look at the current efforts of systems that have been made with both software and hardware pre-setup so that end user can get there Amiga fix pretty much out of the box.
Armiga

Production model: CubieBoard 2 + Floppy controller + Amiga Emulation
ARM® Cortex™-A7 Dual-Core
ARM® Mali400MP2, Complies with OpenGL ES 2.0/1.1
1GB DDR3 @960M
4GB internal NAND flash, up to 64GB on uSD slot, up to 2T on 2.5 SATA disk
5VDC input 2A or USB otg input
10/100 ethernet
Two USB 2.0 HOST, one USB 2.0 OTG
Floppy Controller
Amiga A500 OCS 1mb Emulation (full speed)
Amiga A1200 AGA 2mb Emulation (99% speed)
£150
A nice small system which actually does feature some custom hardware to get a floppy disk drive compatible with the board and allows you the user to directly put your old Amiga floppy disks in to load them up just like an Amiga would.
IndieGoGo console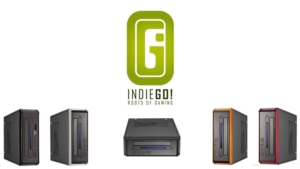 Raspberry Pi3 (some system shipped with Odroid C1 or Odroid XU4)
DVD-RW drive allows to execute CD-Based AmigaCD32, Playstation and PC games
front SD-Card reader
attractive mini-itx case
3D-Printed I/O-shield and ARM-Cpu board holder
USB-Joypad
2x Front- USB
Aeros ( Aros / Linux based OS )
299 euros
A DVD/CD physical media focus system that emulates a lot of systems, the person behind the project is also the developer behind Aros Aeros and so that OS is a key componet of the system, and of course Amiga emulation is another key feature of the system.
Amiga X (AmuX)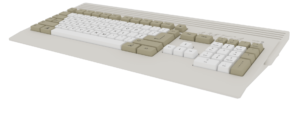 likly Arm based
Joystick Ports
USB
HDMI
MicroSD
AmuX OS
A inspired A1200 case system that was design again to emulate all the major Amiga systems, with a custom OS called AmuX OS (to me looks like a custom EmulationStation / Retro Pi setup) the project has been put on hold due to legal issues.
https://www.newamiga.com
https://www.iamretro.gr/forum/threads/amiga-x-emubee.9223/